"The Mission of the San Mateo Area Chamber of Commerce is to create an environment for businesses to start, grow, and succeed."
– Cheryl Angeles, President & CEO
The Chamber is Here to Help You
The Chamber of Commerce is open for business and here to help you with tools and resources. We have been holding Business Essentials and Town Hall meetings to keep the community informed on Covid-19 related topics as well as provide information to enhance your business skills. These sessions are offered at no cost to the public, member or non-member. Recordings of our events can be found on the Chamber's YouTube Channel. We want you to be able to survive and thrive. If you require some assistance, please click the button below and enter your contact information. We will be in touch. We are all in this together.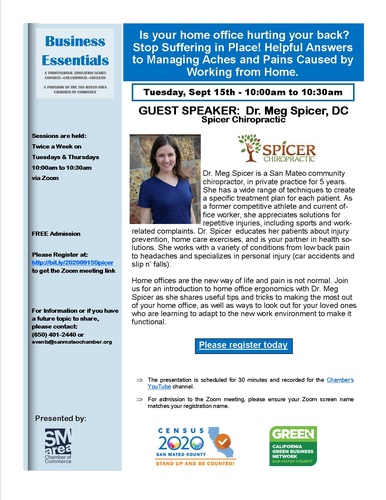 September 15, 2020 | 10:00 AM - 10:30 AM PDT
The San Mateo Area Chamber of Commerce has been navigating the COVID-19 pandemic with an unwavering commitment of supporting the business community to thrive. Community outreach quickly transitioned from in ...
2020-2021 Digital Business Guide
Shopping Local?
Need a Referral?
Seeking Just The Right Professional Assistance?
Take a stroll through our digital business guide filled with information about our fabulous members who are ready, willing, and able to do business with you.
Maria Barreda, Johnson & Dugan Account Executive
I have spent more than 21 years in the insurance industry and have lived in the Bay Area for almost 24 years. Prior to that, I lived in Southern California where I attended UCLA and graduated with a BA in Spanish Literature.
My dream when I was young, was to one day travel all over the world as a translator. I have not been able to travel as much as I would have liked to, but I have been able to apply my bilingual skills in my work and in the community as a volunteer. As a natural introvert, I was really surprised to discover that I love meeting people and learning about their businesses. This gives me the opportunity to figure out how I can be of service or maybe, how I can make an introduction to someone who can be a good connection.
I love Personal and Professional Development and have really enjoyed meeting individuals who are likeminded. I don't spend a lot of time with regrets, I think too much energy can be wasted with that, so I chose instead to focus on the things that make me happy like my daughter who is now an adult. My friends who are always happy to hear from me and always willing to help. 
Through my work and networking activities I have met really interesting people that have expanded my thinking and abilities and I love the idea that we can all learn something new. The year 2020 has been full of changes for all of us and I have taken this opportunity to figure out what else I can learn. Turns out, I can still learn a lot. I can still challenge myself to step out of my comfort zone. For me, that is where the learning happens.
COMMUNITY SERVICE
Volunteer for the Elections Office in San Mateo County

Ambassador for the San Mateo Chamber of Commerce

Membership Director for the Latino Chamber of Commerce in San Mateo

Assistant Membership Director for the Business Advantage Networking Group (BANG)